About
Kirk and Sweeney 12 Year
KIRK AND SWEENEY was a wooden schooner, best known for smuggling rum from the Caribbean to the Northeast during the early years of Prohibition.
Aroma
This deep mahogany colored rum presents a sweet aroma balanced heavily toward cane honey, with earthy sugar cane undertones, along with a hint of vanilla, luscious toasted oak, caramel and dried fruits.
Taste
Initial taste reveals a nectar-sweet quality, leading to a weightier body that indicates substantially aged rum that's serious in character but not overbearing. Light notes of vanilla and wood hit the palate transforming into an incredibly smooth offering.
Bold, ripe, and sweet vanilla flavors evolve near the end, providing a smooth, long and luxurious finish.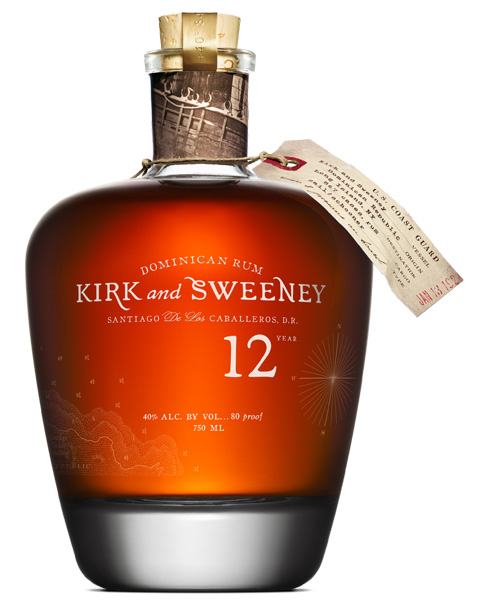 A 12-YEAR-OLD RUM CRAFTED IN THE DOMINICAN REPUBLIC FROM SUGARCANE, THEN AGED FOR 12 YEARS IN AMERICAN OAK BARRELS.
1.0 oz. Kirk & Sweeney 12yr Rum
.75 oz. Carpano Antica Sweet Vermouth
.75 oz. El Guapo Bitter Love Potion # 9
4 Drops Bitter Truth Chocolate
Build ingredients in mixing glass, add ice, and stir about 30 revolutions with a mixing spoon. Strain with a julep strainer into double old fashioned glass over one large ice cube. Wipe the inside of orange peel around rim of glass then twist peel over the top of the cocktail to release the oils and place twist inside the glass.