Spirits that are barrel-aged are certainly nothing new. And that goes for gin too.
In 2008, Alexandre Gabriel caused quite a sensation by doing just that – producing wood-aged Citadelle Reserve. No one had seen an aged gin for nearly a century. In those days, when glass was too fragile and expensive and plastic and stainless steel were not options, gin was transported in wooden barrels. And so, became wood-aged. With Citadelle Reserve, Maison Ferrand celebrated the rebirth of golden gins. What began as a 'family' experiment in 2008 and shared with a few inquisitive bartenders and friends has now blossomed into a gin that is very much sought out today by bartenders and consumers for its different taste profile.
After several years of experimentation, Gabriel perfected his recipe: adding 3 botanicals – yuzu, genepi, bleuet– and resting gin in five different types of woods barrels – Acacia, Mulberry, Cherry, Chestnut and French Oak – for five months.
At the end of the five months, the gin is blended together and refined in an eight-foot tall, eggshaped oak barrel of 2,45 meters high.
The egg shape of the wooden vat creates a natural convection that facilitates an harmonious and delicate integration when blending all different aged barrels. Citadelle is the only French spirits distiller to date to use this avant-garde technique, keeping in line with the forward-thinking principles and spirit of Alexandre Gabriel and Maison Ferrand.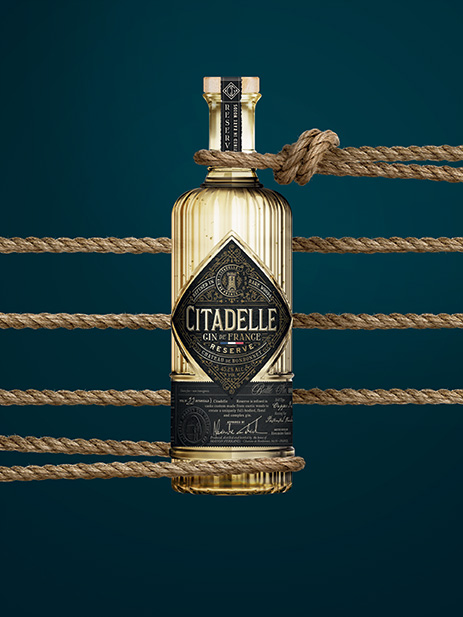 Tasting notes :
Color: Pale, limpid gold.
Nose: Herbaceous notes of dried spices, but also coconut shell, tobacco and orange flower. The second nose brings out notes of juniper berry and green tea.
Mouth: The first note is silky, abundant, a bit spicy/peppery, with hints of dried tobacco. Midtasting, additional notes of lemon zest, ginger and almond. A lasting finish.
This unique aging method intensifies the citrus notes of Citadelle Reserve Gin and creates an elegant softness in the mouth. Bottled at 45.2% ABV, this gin is incredible in a classic Gin Martini.
While Citadelle is perfect in a gin & tonic, the most curious drinkers can discover a version with a more assertive character. How, you ask?
To your shakers!
– Pour 4.5 cl of Citadelle Gin
– Add 4.5 cl of Vya Extra Dry Vermouth
– Mix with ice cubes
– Shake briefly to dilute the ice cubes a bit, but maintain their coldness
– A lemon
The tasting ritual
Swallow your oyster. Save the shell and pour in the 50/50 Citadelle Martini, then lightly squeeze a lemon on your cocktail to add some acidic flavors. Drink as a shot. Cheers!