About
Old Forester – 1870 Orginal Batch
In 1870 George Garvin Brown created Old Forester on Louisville, KY's famous whiskey row. In honor of that milestone year in bourbon history, we have crafted a tribute – Old Forester 1870 Original Batch – the first craft expression in the Old Forester Whiskey Row Series.
Old Forester 1870 Original Batch echoes George Garvin Brown's original 1870 batching process. Back then, Brown batched barrels obtained from three distilleries to create a consistent flavor profile. To emulate that process today, we also select barrels from three warehouses, each barrel originating from a different day of production, with a different entry proof and a different age profile.
The three expressions of Old Forester are then batched together to craft Old Forester 1870 Original Batch. This 90-proof bourbon will be minimally filtered, to honor the processes available to George Garvin Brown at that time.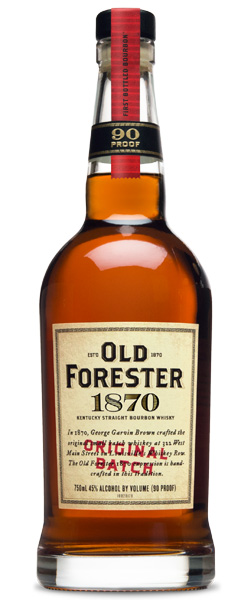 Tasting Notes:
NOSE
Clove notes spice up a medley of citrus fruits (orange, grapefruit, blood orange), all softened with a delicate, sweet, floral honeysuckle character.
TASTE
Baking spices (clove, cinnamon, nutmeg) flow into a citrus-fruit mix and shortbread sweetness
FINISH
Soft, with lingering fruit and spice character.
STREETCAR NAMED DESIRE
BY MAX MESSIER
Add a new taste to happy hour when you mix these bold flavors with Bourbon.
1.5 oz. Old Forester – 1870 Original Batch Bourbon
.75 oz. Cocktail & Sons Mint and Lemon Verbena Syrup
.75 oz. Lemon juice
6 Dashes Angostura® Bitters
METHOD
Add Old Forester – 1870 Original Batch Bourbon, mint syrup and lemon to cocktail tin and top with ice. Passionately shake for 5-10 seconds. Double-strain over a large single cube of ice. Garnish with lemon wheel, a "smacked" mint sprig and four dashes of Angostura® Bitters.